Hilary Page has four published books. The books are: ; Watercolor Right from the Start (see below), Color Right from the Start (SOLD OUT), Hilary Page's Guide to Watercolor Paints (SOLD OUT) with free updates. And autographed copies of Portraits Right from the Start when purchased directly from the author.
Watercolor Right from the Start (1992)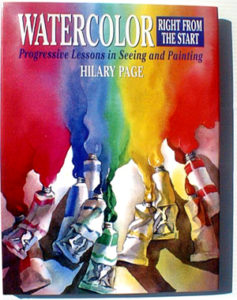 Now in its fifth printing this seasoned best seller provides progressive lessons in seeing and painting and is ideal for beginners and painters of all levels including teachers. The book covers watercolor starting with preliminary "value" drawings, how to lay in wet on wet and graded washes, color mixing, tips and short cuts, also composition and design. Lessons are presented in the form of step by step demonstrations so readers can learn as they paint landscapes, seascapes, florals, buildings, still life. Readers are shown how to see in terms of simple forms so they can portray any subject. The chapter on PERSPECTIVE is particularly clearly explained and illustrated. The book contains a wealth of information.
Watson-Guptill: Full color: 144 pages: $20.0 signed (paperback)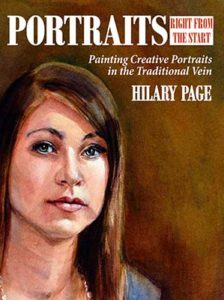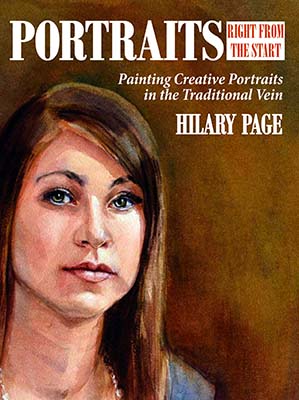 PORTRAITS Right from the Start (2016)
PORTRAITS Right from the Start is written, illustrated, designed and printed in the USA by the author. It covers incredibly helpful information on depicting people that is absolutely not found elsewhere. A complex subject such as painting people is made easy to understand and remember without ever being simplistic. It's a teach-yourself-at-home art course that enables you to become a pro at painting people by working through the demonstrations and practical learning projects on your own time schedule. It's also designed to be a class manual.
PORTRAITS Right from the Start is for all aspiring artists – those who attend model groups, teachers, students, and beginners who want to get it right – from the start.
The material covers the head, three quarter and complete figure portraits. It is characterized by progressive lessons in the information is introduced in the form of step-by-step painting demonstrations and practical, three dimensional learning projects, including sculptural ones.
Besides showing painting techniques and new ways of mixing flesh colors, the book provides essential information on "massing", shading and perspective that is clearly explained and illustrated. The perspective lessons are iconoclastic. Measurements given for the head and figure help artists hold down proportions and so prevent egregious drawing errors. The artistic anatomy segments make the book a classic.
The cost is $25 plus $4.00 S&H from this site. To purchase a copy click on ORDERFORM You can pay by credit card or check.
As you work through the lessons you can practice what you have learned by attending a model group. To find a model group in your area go to the figure drawing directory.
www.artmodelbook.com/figure-drawing-directory.htm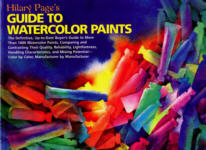 Hilary Page's Guide to Watercolor Paints (1997)
The acclaimed Hilary Page's Guide to Watercolor Paints with on-line updates will SAVE YOU MONEY because you will avoid buying duplicate paints from varied brands that maybe are on an instructor's supply list. The book will easily pay for itself from the money saved! Click here to receive a FREE  Update Lists by email. The Guide is sold out though you can get used copies from thru Amazon. I also offer a Guide Supplement on this web-site
The book is the definitive buyers Guide. It rates each paint according to the "Ten Desirable Paint Qualities" including light fastness, with visual samples of nearly 1,500 paints from the following brands: Winsor & Newton, Daniel Smith, Schmincke, Fragonard-Pebeo, Rowney, Rembrandt, Van Gogh, Old Holland, Sennelier, Grumbacher, Blockx, M.C. Graham, Academy, Impellist Sakura, Da Vinci, Shiva, Georgian, Cotman, Maimeri, and Koi Sakura; plus brief information on Yarka, Pelican, Lukas, Pentel, Linel, and Niji. A comprehensive Master Triangle of paints and pigments serves as a key to the book and the complete manufacturer's paint index makes the book very user friendly.
Hilary Page's Guide to Watercolor Paints also provides "Convenience Lists" that tabulate staining, textural, transparent, opaque and two-tone paints together with suggested palettes. Useful information is included on pigments including toxicity and the ASTM ratings. Reflectance Curves provide quantifiable color evaluation and the mixing potential of each paint. The curves and explanations of pigments' color mixing potential are fascinating. The pictorial historical background makes entertaining reading. Altogether the book is an invaluable resource and a "must" for every artist!
Click here for the web- UPDATE SUPPLEMENT  that covers paints that have been upgraded or introduced since publication from the following brands: American Journey, Cotman, Daniel Smith, Holbein, MaimeriBlu, Rowney, Venezia and much more. It is intended that buyers print out "Update" and store it within the covers of the Guide.
As the author, it is my wish that Hilary Page's Guide to Watercolor Paints will make your paint purchasing easier, better informed and more enjoyable as you buy the best paints possible to suit your particular style and budget. Happy Painting!
Watson-Guptill Publications (1997): Full color: 176 pages: paperback: $21 (signed)
SOLD OUT: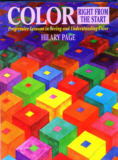 Color Right from the Start (1994)
This beautifully illustrated book already in its second printing is for artists of all levels.. Although primarily for the watercolor painter, those working in other mediums such as acrylics and oils will also find the book useful. It includes progressive lessons in seeing and understanding color, easy, proven methods for mixing any color ranging from the brilliant to the subtle neutrals and many step by step demonstrations showing paintings from start to finish. The book contains information on color theory, simultaneous contrast, and vision as it relates to painting. Quite complex material that is invaluable for the artist is made easy to understand. Click here for the Color Right from the Start paint conversion chart.
Watson-Guptill: Full color:144 pages: $20 signed (paperback)